About Us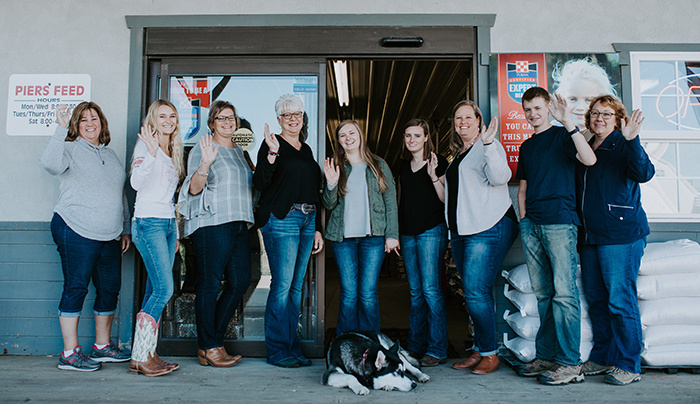 Piers Feed Mill was opened in 1960 by Julius "Juke" Piers.  Juke started out as a third-generation farmer in the Township of
Fillmore
, Michigan.  In addition to farming Juke also drove truck for Heidema Brothers Inc. but after 19 years Juke decided to farm full time.  At this time Juke invested in equipment to grind corn for his own livestock animals.  Many of Juke's neighbors had him grind corn for their own farms.  As more farms in the area hired Juke to grind feed for them, it took much his time away from his own farm.  This increased demand opened the door for Juke to start Piers Feed. He could now provide grind and mix grains for animal feed and bulk fertilizer for the farmers in the area.
    Piers Feed still continues as a family-owned and operated business that has grown into more than a feed mill for
livestock
feeding.  In 2000, part of the building was remolded into a country store.  Evolving the mill into Piers Feed and Country Store, and in 2016 we expanded again giving us even more space for retail animal supplies beyond feed!  As a shopping destination that gives you the feel of the old mill and the new products on the market today.  Piers Feed and Country Store still carries a large variety of feed for farm animals but has grown to have a variety of food for other animals.  You can find food for your wild birds, wildlife, dogs, cats, show livestock, horses, and poultry and the products to care for them.  You can also find lawn and garden products and pond care supplies in our store.  Piers Feed and Country Store has a helpful and knowledgeable staff that cares about your personal needs. Our goal is to give personalized service to everyone that comes in our door and out to their vehicle. We have become a Country Store for everyone.  
Come take a step back in time and visit Piers Feed and Country Store quality service for over 60 years.
Team
Jolyn Smallegan

Jolyn is the new owner and is very excited to continue on the store and serve the community by continuing to provide quality feed for all animals. You will find her taking care of her triplets at the store or working from home and carefully managing the nutrition of her show Boer Goat herd to produce the best quality animal possible.

                                                                                                                                             

Kenzie Heneveld

Kenzie takes care of the ordering and the day-to-day management in the store. We are happy to have Kenzie caring for our customers!                          

Jenna Timmer

Jenna loves showing her goats at the local county fairs during the summer she does a great job helping our customers in the store and keeping the store clean and organized.                               




Jacob Timmer

Jacob does a lot of behind the scenes work at the store, he mixes all of our custom mix feeds for us and keeps the back clean and organized for all us girls. He is the youngest of 4 kids, he has grown up on a hobby farm showing livestock with everything from chickens to cattle.

Beth Timmer

She is the newest employee at with us, she enjoys growing flowers for her cut flower garden in the summer and helping her kids with their livestock on the farm. She loves helping people find the perfect bird feeder and seed to attract the birds they are looking for.

Jax

Jax is an Alaskan Malamute, he is just over a year old he loves to come to work and greet all of our customers.
---
 

Gwen Rillema

When Gwen is not working at the store she loves spending time with her grand kids on she and her husband's farm.

Cal Sterenberg

Cal is also more behind the scenes he does all our deliveries to larger farms for us and in the summer all of our mulch deliveries. He loves helping people out and is very active in his church.